Last days of May 2010. The city of Krakow tries to survive a flood. All classes at the University are cancelled and I sit in the Institute of Sociology grading students' achievements. At home, a backpack packed for my expedition to Nanga Parbat is waiting for me. I'm on the verge of my first attempt to climb an eight –thousand Himalayan mountain. After that, I plan another expedition to summit Pik Pobedy (7 439 m) in the Tien-Shan and later yet another trip to the Caucasus, to participate in the Elbrus Race. If this maximum plan is completed, I should return to Poland just before the first days of October.


The expedition to Nanga Parbat is a success. Three mountaineers (members of 12-person team) put their feet on the mountain top: Artur Hajzer, Robert Szymczak and Marcin Kaczkan. I have to wait for another chance. Maybe next year.
Only nine days after returning from Pakistan, I'm already on a plane to Kyrgyzstan. I'm going to join a Polish expedition to Pik Pobedy. The "Victory Peak" has not been summited yet by a Polish woman. It is known as one of the most dangerous mountains in the world and it has really ominous statistics. We plan to climb it in our five-person team: Kuba Hornowski, Wojtek Kozub, Daniel Piskorz, Krzysztof Starek and me. Other girls - Paulina Kozub and Ada Jaszczyńska, who climbed the nearby Chan Tengri with the boys, will now wait for us in the base camp.

August 17, on a beautiful sunny morning, we wait for a helicopter to take us to the base on South Inylchek glacier. Suddenly, we are getting a message that our flight will be delayed. On the other side of Chan Tengri there was an avalanche of seracs. The helicopter had to take local guides to the site to perform the function of lifeguards. But it was too late ...  A Polish girl died and her fiancé miraculously survived. The second fatal victim was a climber from Italy. When we finally get to the base camp, we are able only to assist in formalities. On August 19, the helicopter takes away the girl's body. A few moments later, we are leaving the base camp, heading towards the Pik Pobedy. Our moods are not bright. A bad sign? No, we don't believe in such things. We are tough – only sometimes a bad dream or a quiet inner voice tells us to go back.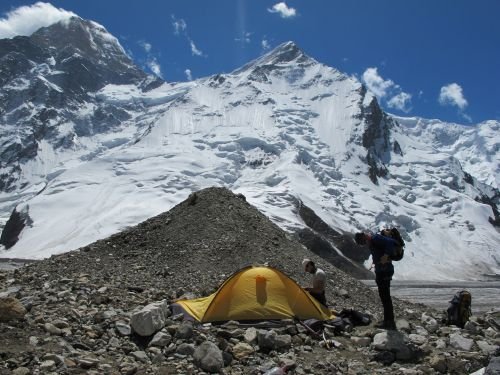 Finally, we start our climbing after splitting into two teams: Kuba and Krzysztof are in one team, while Wojtek and me in the other. After a day of hiking we reach Camp I and spend the night at a height of about 4500 m ASL. The next morning we cross the icefall – this time it is an extremely challenging effort. The anniversary of the big victory (Pobeda) of the Soviet Union in WWII attracted many climbers that try to climb the mountain and some of them are not adequately prepared. This results in minor problems at this early stage of our attempt. We get in the middle of "heavy traffic" on climbing routes; ice debris falls on our heads due to activities of those above us etc. These conditions slow our pace and we do not reach Camp III before the nightfall, as we planned.  We are forced to camp a few hundred metres below the camp, at the height of 5800m ASL in Camp II situated at Dziki (Wild) Pass.
The next day, we quickly reach Camp III, but at this stage Wojtek unexpectedly resigns from further climbing and decides to return. Our reduced team moves on, having only one two-person tent. We cross the rocks using fixed ropes that look quite old and fragile. Late in the afternoon, we are exhausted and we set up our tent in Camp IV at 6400 m ASL. Weather is still beautiful. For Pobeda it is almost too beautiful and lasts for surprisingly long period. There are only two options: we will be incredibly lucky and the weather will remain like this for next few days or it will break down violently.
We wake up the next morning to see sunny skies. It enables us to quickly and smoothly reach the Camp V at the top of the West Pobeda in the same day. We sleep in a snow cave. At five in the morning with a group of a dozen climbers from former Soviet countries we start the final part of our climbing. After less than two hours of crossing quite easy rock ridge called the Obelisk we leave a part of our equipment (tent, two gas cartridges, one sleeping mat, one sleeping bag and some food). This is an emergency reserve in case we are not able to return to the fifth camp from the peak. For now, splendid weather and good moods drive us up. Two hours before expected summit, we all leave backpacks under a rock called "The Gendarme" and linked together into several line teams we are trying to overcome a sharp ridge. On August 23, about 12:40 pm. we reach the top. So here I am…the first Polish woman to climb Peak Pobeda and the first Pole that climbed five seven-thousanders of the former Soviet Union, which entitles me to the "Snow Leopard" award. Krzysztof and Cuba are in the group of ten first Poles to climb the peak. But for now, no one thinks of celebrating and congratulations. There will be time for this after our return. We take a photo with the Polish flag and start to descend.  We try to get the connection with friends in the base camp, but the communication fails and we are unable to share good news with them. A few moments later the connection is lost for good... Meanwhile, dark clouds start to fill the skies, coming from the Taklamakan desert at the Chinese side of the mountain.


The descent becomes troublesome. Some climbers walk very slowly, some of them are quite anxious, while others are tired and sit down in snow. The ridge is blocked. Before we all get to "The Gendarme", the visibility is bad and wind is very strong. We try to go down as fast as we can. We feel a bit better when we reach the Obelisk and our baggage, even though the conditions still deteriorate. We are not far from the camp. We continue to descend as the last team. It is a tough work, we lose other groups from our sight, wind erases all tracks, but we still believe that we will spend the night the camp. At some point, however, we cannot see anything. One false step and we will end up in the abyss on the Chinese side (left) or on the Kyrgyz side (right). We undertake a quick decision – to put up the tent and wait for better weather.
Night one and day one of being trapped. We lay on sleeping mats and backpacks dressed in down suits and wrapped up by frozen sleeping bags that provide a little comfort. Still no communication. We hope that someone will come for us, but we know it's quite unrealistic. Snow buries the tent up to the roof and starts to get into the sleeping area. Quite frequently we remove it, but it is hopeless - the tent bends inwards preventing cooking and comfortable breathing. Krzysztof motivates us and his energy encourages us to go out and fix the tent. For a while we feel better.
Night two and day two of being trapped. We are suspended between two worlds; time and space become quite unrealistic concepts. Believing in a happy end is very hard now, but we still believe.
Night three and day three of being trapped. We run out of food and gas. The wind is still strong, but there are quiet moments as well. We leave the tent torn into pieces and start our march towards the West Pobeda. There is no option to return. We struggle for a few hundred meters in deep snow (in few places it is up to our faces). And then we stop in horror. Near the rock we see a body. It is a dead climber –a member of the team that we followed during the first part of our descent.  Few more steps and there is another body. It seems that they also didn't reach the camp and decided to camp here. In the place where we found the bodies we see a fresh trail in snow, apparently there are survivors. We follow the trail and reach the camp. Just in time... few minutes later the weather breaks down again.
In the camp we find a dozen trapped survivors. Again, a snowstorm almost buries us alive. People in the camp almost run out of food and gas. Long period of staying in high altitudes gains its impact - a few people are sick. There is a chaos in activities of the group. One day after our arrival some of climbers decide to leave the camp and continue the descent. We think they are crazy – it is not safe to leave the camp at 3 pm. We stay and improve the conditions in our snow hole and after that we cook some food and rest for a while. We were right - climbers return after few hours – they are exhausted and crowd in our snow cave. Some of them completely lost their hope.

August 28 - another cold morning, but the weather slowly improves. We all start to go down the mountain. Two Russians perform a priceless work – they dig up a path through snow with shovels. Two other climbers have symptoms of cerebral oedema. They have to be brought down as quick as possible, as the medications give them only a little extra time. During the descent I help Andrei from Uzbekistan, while Krzysztof and Kuba support Alik from the Ural and his group. That day, however, we are able to reach only the next lower camp. We spend the night at 6400 m ASL trying to squeeze with ten people in a three-person tent. It is a nightmare. People reach the lowest level of functioning, fighting ruthlessly for a little space, just to stretch their legs.

In the morning Krzysztof and Kuba, who spent the night in the vestibule, are the first to leave. It is very cold – Krzysztof starts to descend and the rest of the group follows him. We know that in the afternoon a helicopter will come to pick us up from the plateau between camp I and II. We just need to be there at time. There won't be a second chance - tomorrow we expect another weather breakdown and the glacier is impassable due to the rainfall that turned out to be the heaviest one in the last fifty years. Using the rest of gas, I prepare a hot drink for Andrei and myself and we leave the camp with the last group. The situation is getting worse. Andrei often loses his balance and trips over. He drags me after him and we fall. The only thing that rescues us is my rope attached to the ice axe which is driven into ice. We hang to it but after while (as the rope is wrapped around me) it starts to suffocate me. And then Kuba comes to the rescue- his timely intervention saves me. After a while we know that we cannot help Andrei – medications do not help, we have no oxygen bottle, people and time. Should we leave him and run for the helicopter? Or maybe we should stay risking our lives? There is no good decision. You have to make the best of the bad. Kuba suffers of serious frostbite and he is barely holding on his feet, but he starts to wall down. I stay with Andrei…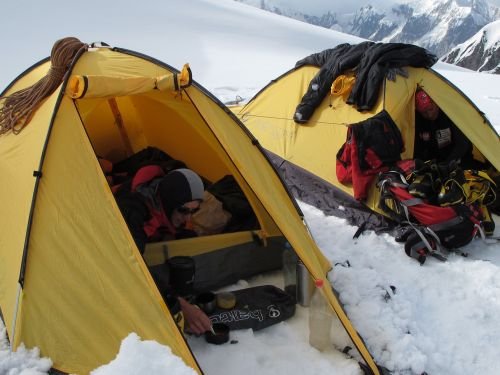 I do not know how long it lasts. I can't even wait to the last moments, because when Andrei loses his consciousness, another sick climber appears. It is Alik. He is the last one to descend and he trips over every few steps, but there is still hope for him. For the last time I take a look at dying Andrei and then I rush to support Alik in his way down. After some time we meet his companions. Together, we help Alik to keep his balance. At some point of our struggle we hear a helicopter engine … - It means that they have departed without us…
Fortunately they haven't. When we get to the "Wild" Pass in late evening, we find the whole group camping there. The helicopter has only dropped food and gas. They will pick up us tomorrow.
On the morning of August 30, 2010 we reach the plateau. Some people are unable to walk on their own – they cannot help us to prepare a landing place for the helicopter. We do not wait long… A huge military Mi-8 helicopter takes us on board and all the survivors leave this white hell for the green steppes of Kyrgyzstan.
***

In the beginning of September we arrive to Poland. Kuba has returned earlier, but he has to stay in a hospital. Chris and I had more luck. Still, my frostbitten fingers do not make me fully fit for a mountain race. I planned to participate in the Elbrus Race, competing at the distance that has not been attempted by a woman before. I decide to go there anyway... I want to feel the spirit of sportsmanship, and be in action again – I just want to forget and erase the gloom of Pik Pobeda.

On September 24, the Elbrus Race ends with a great Polish victory. Andrzej Bargiel finishes the race (which altitude difference exceeds 3300 m) in a record time of 3 hours and 23 minutes, beating the previous record by more than half an hour. I manage to cross the finish line as the first woman racer, establishing female record at 5 hours and 4 minutes.
Expeditions to climb Nanga Parbat and Pik Pobedy and participation of Poles in the Elbrus Race were organised within the framework of a national program for Polish Winter Himalayan Mountaineering.
Text: Aleksandra Dzik
Photos: Krzysztof Starak

The participants of the expedition used Khumbu i Baltoro tents