ARCO tent travelled across Alaska with us. The route started at the highest point of the Cordillera mountain range – Denali and led us through the regions of the Arctic Circle to the shore of the Arctic Ocean. From the 49th state of the U.S., we moved to the East Coast, where the tent could "rest" a bit, but not for long. The next challenge, which included torrential rains and scorching sun of Australia, was about to begin.

In spite of our rather rough approach, the tent does not show any signs of wear and tear. Certainly we will take it on our next trip. The tent is spacious with a surprisingly low weight. Very durable design, made it useful both during hurricane winds in the mountains of Denali and in the more relaxed part of the trip. Quite often the tent was covered with a several inches of snow, but it didn't deform the poles. Moreover, during a heavy Australian rain, we were forced to put up the tent on a swampy ground, but the floor did not allowed a single drop of water inside.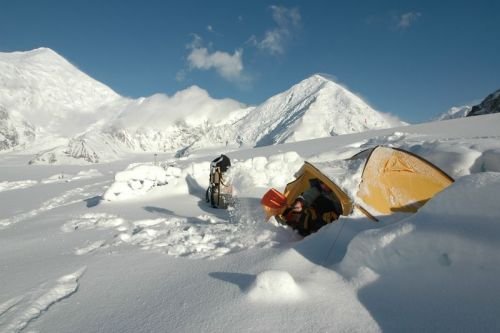 Two entrances facilitate the camp life during difficult weather conditions. One of the vestibules may be used as a storage area, whereas the other may be your kitchen. Here's a tip for those using the tent on snow: it is quite handy to dig a 40-50 cm hole in the large vestibule – it will significantly increase the capacity of the usable area. The extra space may be used for drying clothes, cooking, etc. This small improvement would provide you with a comfortable area for many activities that have to be performed inside the tent during bad weather. Large entrance and bidirectional zippers facilitate cooking in the vestibule - unzipping the top section of the entrance is a good ventilation technique when using a camp stove. In high mountains the tent is suitable for 2 people with all necessary equipment, but during easier trips, it may accommodate 3 people without any problems. Arco has a great versatility - it may be used during the most difficult expeditions due to its durability, low structure and low weight; but at the same time it may be taken for weekend trekking trips across hilly countryside.
Many climbers met in the Denali area were quite interested in the design of our tent. They compared their own tents to Arco and I can proudly admit that all of such assessments were in favour ARCO.
We did not discover any faults of the tent during seven months of using it.
text: Apollo Michał,  Żołądek Marek